Horse Riding

Trail rides
Needless to say, being a horse farm, the main focus on the premises is horses and horse riding. We offer both longer and shorter trail rides where visitors can experience the natural surroundings on horse back. If you are a beginner or have never ridden before, you can join us on a nice slow stroll through the forest on a calm and gentle horse. For more experienced riders we have routes that allow for more trotting, cantering and playful riding. In both cases you have the choice to stop for picnics, swim in the lake in summer, or just ride from start to finish.
For pictures and brief descriptions of our horses, take a look at the Horses & Pasture page.
Prices:
| | |
| --- | --- |
| Type / Length of Ride | Price |
| 1 hour trail ride, 1-5 people (+ our guide) | 300 SEK / person |
| 2 hour ride, 1-5 people (+ our guide) | 500 SEK / person |

If you have chosen one of our "riding and accommodation" packages, other prices will apply!
Bed & Box
If you prefer to bring your own horse you may like our "Bed and Box" option, even if the term on this farm actually should be "bed, pasture and field-shelter", as we don't keep our horses indoors in boxes. Nevertheless, if you choose Bed and Box you will have a little field with shelter at your disposal, right outside your accommodation of choice. Contact us for more information!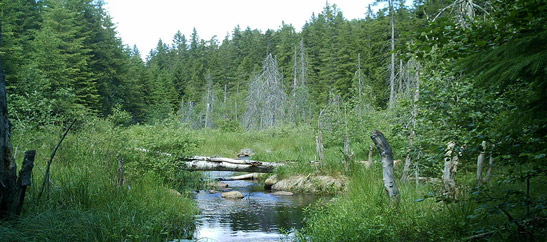 Hiking, Berry and Mushroom Picking
As Ramshyttan is surrounded by forest and lakes, it is an ideal starting point for those who enjoy exploring the forest by foot, whether it be for exercise, to enjoy the beauty of nature or to hunt for nature's delicacies.
Depending on the season, you can easily stumble across ample amounts of various edible mushrooms such as Chanterelle and Carl-Johan, as well as a range of berries such as blueberries, lingonberries, wild rasberries and sometimes even wild blackberries.
Bergslagsleden (The Bergslag Trail)
One of Sweden's top three hiking trails, Bergslagsleden, runs right through the village of Ramshyttan, making this an ideal starting, ending or staying point for hiking enthusiasts. People come from all over Sweden, and in fact from all over the world, to hike through the beautiful region of Bergslagen along this trail.
(The following is translated from Örebro Region's page about the trail:)
Bergslagsleden runs through many of the different habitats found in Örebro county. It passes through great old forests, over soft, mossy hummocks, up to breathtaking views and over myrtle fragrant marshes. Everywhere the hiker is offered natural splendor beyond the ordinary: the cries of the black-throated loom echoing across forest ponds, woodcocks flying over the trees and song-thrushes singing in the evening. A grouse ritual can take place right at the side of the trail. If you are really lucky you may see marten, beaver, moose, or even lynx. The trail also passes through several of the county's nature reserves.
The Bergslag Trail has been routed so that it passes through various points of interest. Its first segment goes through the old ironworks community. The trail passes abandoned mines, old Finnish villages, huts, and the county's largest nature reserve: Kindla. It continues past the rapids of Järleån, Pershyttans old mining environment and then balances along the mighty Kilsbergskammen (The Kilsberg Comb), which offers breathtaking views of Närkeslätten. After passing Garphyttan National Park the trail continues past the remains of ancient fortresses, fresh water springs, ancient pines and the mystical lake Tunntappen. The last section aims for the virgin forests of Tiveden and runs along Munkars Stig (Monks Path), with one foot in the county of Närke and the other in Västmanland.
For more detailed information about Bergslagsleden (The Bergslag Trail), see Örebro Regional Development Council's informative page.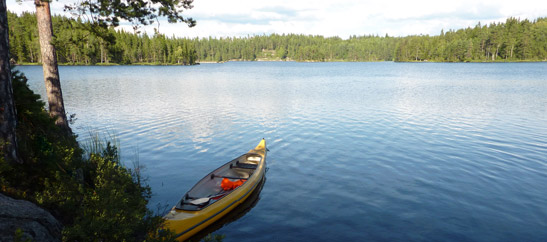 Water & Lake Activities
Ramshyttan is nestled between various forest lakes, the largest being the lake Ramsjön that stretches kilometres through unspoilt forested landscape. The lake has several small secluded islands that are easily reached by canoe or boat, one in particular being very camping friendly with a fire ring, small log-cabin shelter and dry outhouse toilet for public use.
Boating & Floating
On the farm we have a couple of canoes that, unless in use, can be borrowed by our guests for outings on the lake. As our guest you also have the possibility to rent the raft boat for an unforgettable evening dining out in the middle of the lake. The raft boat is equipped with table, chairs and a silent electric motor.
Swimming
The Ramsjö lake has several swimming spots and small beaches, both private and more popular. If you have small children the main swimming place right next to the village may be your best choice, as it has a nice sandy bottom, two piers, a grilling spot and dry outhouse toilets, as well as being equipped with both lifering and lifeboat. However, if you require a quieter and more secluded time you may wish to take a short drive (or longer walk) and find your own bathing spot a little further away.