At Ramshyttan Horse Farm we are often out in the dark – partly because we have short days and long dark nights during the winter, and there is always work to be done on the farm. Also, it is great fun riding in the forest at night. And one really important piece of equipment is a good, reliable headlamp. Roland was recently asked to be one of six global reviewers for the new high-end HC50 head lamp from Nitecore. Here is his review:
Well folks, here it is. Nitecore's first venture into head lamps, the HC50, just released.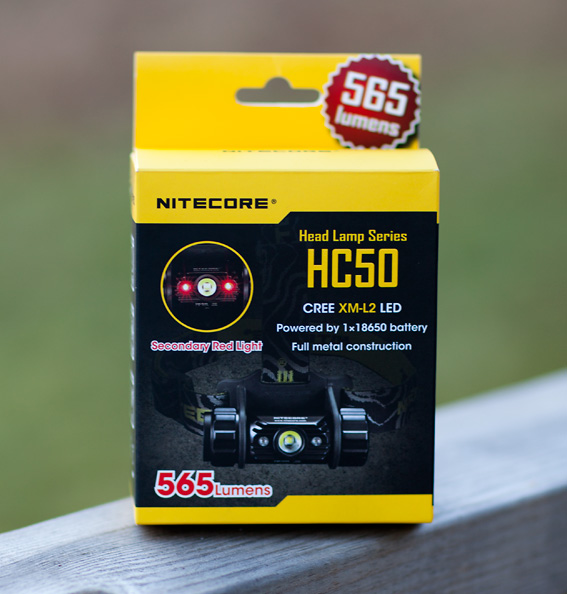 If you didn't know, Nitecore is famous for its superior range of lighting products. I already have one of their flashlights, the Tiny Monster 26. It is an awesome device – basically a hand held searchlight – made to exacting standards. So I immediately became interested when I heard that Nitecore was going to release its first headlamp. When they put out a call for independent global reviewers I applied and was accepted.
Headlamps have given me many headaches. We have a large number of 'dead' headlamps at home. They have failed for all sorts of reasons – broken after being dropped on the ground. Become lifeless after being out in the rain. Light switch / button breaks off or just stops working. Battery compartment falls apart when opened. Or for totally mysterious reasons, probably related to cheap parts and sloppy production, they just die. Some of our failed headlamps were expensive, from supposedly reputable companies. We have headlamps that are still working, but have been abandoned for various reasons — flickering light, poor beam, too heavy, malfunctioning switches, uncomfortable head strap, etc…
So I have been looking for a high quality, reliable, well-designed headlamp. Here in Sweden winter has just begun. We are in for months of long dark nights and just a few hours of sunlight each day. Many sporting activities take place in Sweden at night, such as cross country skiing, ice fishing, mountain biking, horse riding, running and orienteering. To have a headlamp fail on you in any of these activities can be extremely dangerous. All these people really need trusty headlamps. And so do many others – backpackers, campers, hikers, farmers, repairmen, etcetera.
Well, my first impressions of the HC50 are very positive. It has pretty much all the qualities one wants in a superior headlamp – lightweight, sturdy construction, designed for comfort, bright long lasting beam, waterproof, and easy one-finger control of the multiple light modes. On top of this there are a number of finesses which I will mention below.
The cylindrical casing is made of rugged hard-anodised military grade aluminium alloy. The hardening process used, Anodise Type 3, is the hardest finish available for aluminium, providing maximum abrasion resistance. This is a very tough headlamp!
The tiny XM-L LED light, recently developed by Cree, has an awesome 560 lumens maximum output. To put this in perspective, most 'bright' headlamps on the market have an output of around 70 lumens. Cree claims that that its XM-L series are the highest performance LED lights in the lighting industry. They are designed for high lumen applications and have extremely long lifespans, lasting thousands of hours.
Powering the headlamp is a long lasting high energy lithium-ion battery.
My partner Marie is a keen horse rider. When she comes home from work she usually goes for a long ride in the surrounding forest — in the darkness, because the sun sets before 16.00 these winter days. So Marie uses a headlamp for her night rides. For the past four nights she has been using the HC50.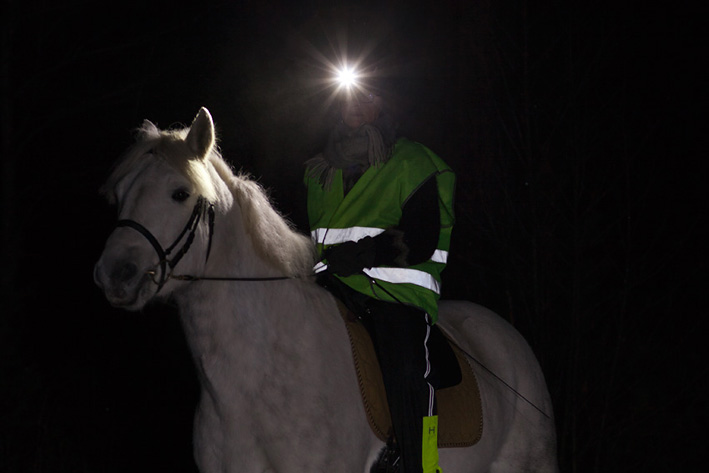 "This is the best headlamp I have ever used" says Marie. "The beam is superb, giving a wide field of vision and evenly lighting up the area in front me. There is no harsh glare or bright spot, and my horse is completely at ease."
The high intensity beam gives a clear view for up to 85 metres, which is more than adequate for any of the activities mentioned above.
Marie's night rides were up to 1.5 hours long, mostly with the headlamp beam on high power. At this level – 350 lumens – the lamp will maintain steady brightness for nearly three hours. (The main lamp brightness levels are Lower, Low, Mid, High and Turbo). At low levels the HC50 will give hundreds of hours of light.
But I discovered something interesting about turbo mode:
The HC50 is very compact, being microengineered around the lithium-ion battery. As you can see in the next picture, the headlamp is hardly much bigger than the battery, and fits easily into the palm of your hand.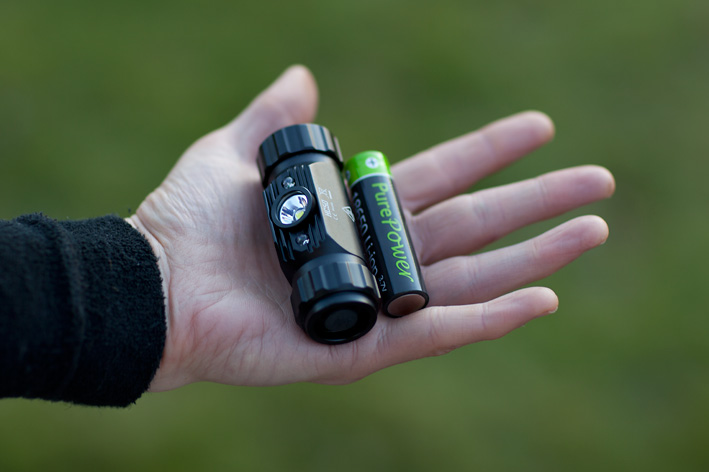 Nitecore states that during extended operation in turbo mode the bright LED lamp causes a steady temperature rise and the headlamp becomes too hot to use comfortably. To prevent overheating, the HC50 has a thermal protection sensor which automatically reduces output when the temperature reaches 55°C. In warmer climates this would normally occur after about four minutes use in turbo mode.
I decided to test this a few nights ago, and went for a 'turbo mode' walk around a forest lake. After nearly ten minutes the HC50 was still in turbo mode and I thought the thermal sensor had failed. Then I realised: The night temperature was -7° C, and the HC50 was easily shedding its heat in the freezing air!
So this makes the HC50 a very good choice for the cold Nordic winter nights. Furthermore, the excellent article 'Headlamps In a Nutshell' notes: Headlamps designed to work with lithium batteries are a good choice for cold-weather usage, since lithium batteries outperform alkaline batteries in cold conditions. http://www.rei.com/learn/expert-advice/headlamp.html
The HC50 is now appearing on sale around the world, with the price varying from 60 USD to almost 100 USD. So, if you are looking for a light to find your way to the bathroom at night or for general household tasks, the HC50 is probably not the tool for you. It would be like buying a LandRover for retrieving your letters from the postbox. The average person does not need 560 lumens of light or powerful, expensive lithium ion batteries.
But neither is it the right device for someone who needs a searchlight or a hunting light.. Nitecore has purpose designed this headlamp for hiking, climbing, camping and general outdoor recreation.
Finally, let me briefly mention a few other good features of the HC50:
• Apart from the five brightness levels, there are also Slow Blink, SOS and Beacon white light modes, and two modes for the red light – constant and flashing.
• It is constructed to survive a 150cm fall
• It will not be harmed by rain or snow and will survive two metres underwater
• It has a toughened scratch resistent ultra-clear mineral glass lens with anti-reflective coating. This is far superior to the plastic lenses found on many headlamps.
• Tilt upwards and downwards allows you to position the beam exactly where you want it.
So, what do I think is missing from the HC50? I would have liked to see an adjustable lens, varying the beam from wide to spot. And the headlamp comes without a battery or battery charger, meaning extra cost and some inconvenience.
However it seems I have finally found the headlamp I have been wishing for! Perfect for after dark sporting activities, well suited to the cold Nordic climate and built to the highest standards..
If you are looking for a great Xmas present , look no further. A headlamp is so much more useful than a hand held flashlight. The beam follows your gaze, and your hands are free for whatever you want to do. And among the hundreds of headlamps on sale, the HC50 is clearly one of the best.
P:S: For a lot more technical detail and lots of close up images, see the HC50 review at http://bit.ly/19aRlgf
I will be adding more detail and images after more usage and testing of the HC50.
Share on Facebook