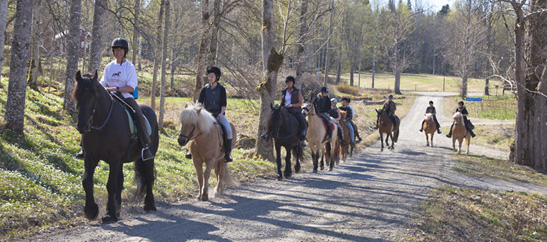 Easter trail ride in Kilsbergen with warm lunch | April 05
Once again we are organising a full day ride in the beautiful natural surroundings of Kilsbergen, amidst lakes, forests and winding pathways. We will make a picnic stop half way through the day where enclosuresfor our horses and a set table with lunch, coffee and treats will be waiting for us. Bring your own horse or rent one of ours! Your guide on the ride will be Kilsbergen veteran Marie Elfverson.

Prices:

Join the ride with your own horse: 200 kr
Join the ride on one of our Friesian or Icelandic horses: 600 kr

The prices include 4-5 hours of guided riding through Kilsbergen and a warm lunch with coffee and home baked treats.
The ride begins at 11.00 am from the stables of Ramshyttan Horse Far. Make sure you dress warmly and are here in good time!
We get back to the farm around 4 pm.
For bookings, contact Marie by phone: 072 - 200 91 87
or mail us your name and contact details.

(Pictures from a previous Easter trail ride can be viewed in our blog!)

Alcaline Health Week | April 20-26


Food is metabolised differently in our bodies, some foods are acid-forming and others are alkalising. In general, we eat too much acid forming food - such as meat, dairy products, cereals, coffee, sugar, alcohol and processed foods. This leads to acid being stored in the joints, body and tissues, and when the body tries to neutralise these, alkaline substances are pulled out of the organism - mainly calcium stored in bones, joints and blood vessels. A constant excess of acid can eventually lead to a thinning of the bones and calcium being stored in the tissue instead, causing various problems.
Symptoms of an acidified body can be:
Indigestion, joint pain, intestinal disorders, liver disease, gallstones, fatigue, anger, irritability, high blood pressure, muscle stiffness, candida, depression, poor eyesight, brittle bones, obesity, asthma, colds, etc. ..
Scientific research has been made regarding how cells and bodies behave in acidic environments, where it has been seen how people with diabetes have improved or even completely recovered, cancer patients have made ​​tremendous progress, and obese individuals have plummeted in weight by changing to an alkaline diet.
During "Alcaline Health Week" we will eat and drink alkalising foods, based on raw vegetables and fruit. This is an opportunity for the body to eliminate acids and toxins, and regain vitality and health. Relaxation, hikes through the beautiful Bergslagen nature, exercises and lectures on nutrition and health are included in the program.
Prices:
Course with accommodation in a single room: 4570, - SEK
Course with accommodation in a double room: 3500, - SEK
Contact:
www.fasting-experiences.com
dorothea_meiske@posteo.de
Welcome!